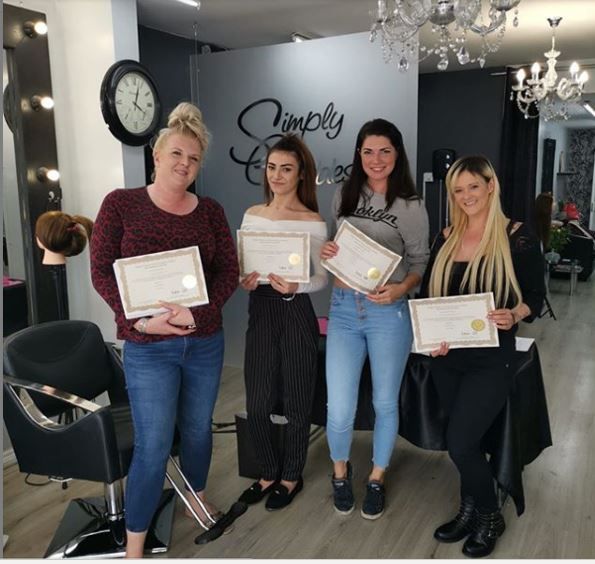 Hair Extensions Training

Hair Extensions Training

Hair Extensions Training CPD Certified

Hair Extensions Training

Hair Extensions Training

Hair Extensions Training
IN-SALON Hair Extensions Training CPD Certified and Accredited

Hair Extension Training - Level 4 VTCT Master Trainers - CONTACT US IF YOU DO NOT SEE A SUITABLE TRAINING DATE

From

£0.00
Hair Extensions Training CPD Certified and Accredited
GREATER DETAILS CAN BE FOUND ON OUR ONLINE SHOP WWW.SWHAIRTRAININGACADEMY.COM COURSE CONTENT WILL BE THE SAME
MANY OF OUR STUDENTS HAVE GONE ON TO START A VERY PROFITABLE HAIR EXTENSION BUSINESS! NOW EARNING UP TO £1000pw FROM FITTING HAIR EXTENSIONS ALONE! Level 4 VTCT Master Trainers.
To view our Training brochure click here
We do this at SW Hair Training Academy and anyone is welcome – Even if you haven't worked in the industry before. We do training in 8 Methods including Micro ring hair extensions. CPD Certified and Accredited.
Our new and improved programme allows your training day/s to be 100% practical allowing more time to perfect fitting techniques, placement and most importantly cutting and finishing.
This is achieved with a link to Part 1 will be sent when we have received payment of non refundable deposit along with your booking pack. This provides you with all the informative and intensive theory needed prior to your PRACTICAL training day/s. Part 2 will be your Practical Training day/s. Part 3 recaps everything you have learnt on your practical training day. (you will continue to have access to these to refer to whenever you need to).
About us.
SW Hair Academy is a fast-track training Academy. Our courses lead to a verified standard that you can rely on. CPD Certified
SW Hair Academy is not an 'add on' to a mobile or salon business, our sole focus is to provide fast track expert training to help you improve your business results. All our courses are typically 1-2 days.
Our CPD accredited courses are short intensive courses allowing students to gain an industry recognized certificate in a few days, leading to a verified standard that you can rely on with external independent accreditation.
We have the training salon in London and various locations throughout the UK which we hold training in small groups or 1 on 1 – or we can come to your site and work with your team.
Our relationship with our students doesn't finish at the end of a course, we provide ongoing support by phone and email to help students maximise their investment in their performance. We look forward to helping you meet the needs of your business no matter how large or small.
What does our courses include and cover?
Your Practical training PART TWO is provided by a qualified Training Assessor and certified for 15 CPD hours. Level 4-8 VTCT Master Trainers.
Understand the industry and latest trends
Work safely and efficiently
Use extensions for length, thickness and different colour effects
Complete a client consultation
Understand contraindications
Select the perfect method and density for your client
Understand different qualities and textures of hair
Achieve the perfect colour match
Create new colour effects such as balayage and highlight using extensions
Section the hair and apply different methods safely and securely with correct tension
Position extensions discreetly for different methods and needs e.g. for length, volume, highlights and more
Use cutting and blending techniques to achieve a natural look (extensions only)
Perfectly style extensions
Safely remove hair extensions
Educate aftercare and maintenance for your clients
Structure pricing and understand profit for your services
Launch and market your new business
Use social media to assist with your new business
Insure your new business
Select the perfect suppliers with our recommendations and trade discount
Course Options
Methods Description:
FUSION (HEAT & COLD) / PREBONDS| Hair fusion is a technique used to apply hair extensions ... It involves taking sections or strands of natural hair and then bonding them to the extensions using a Heat Connector or Ultrasonic Cold Fusion Machine in such a way that they appear to be a seamless, natural lock.
MICRO RING | Micro ring hair extensions use a technique with MicroRings to combine strands of natural hair with the hair extension. ... The hair extensions are applied one strand at a time with the rings holding the extensions in place securely using an Hair Extensions Pliers .No glues or chemicals are required.
NANO RING | The process of fitting nano ring hair extensions involves placing individual strands to small sections of hair and securing them with a metal nano ring. The nano ring itself (as the name suggests) is tiny and 90% smaller than a traditional micro ring, which is why it is often more suitable for those with finer hair.
TAPE WEFT | Tape-in hair extensions are thin tape wefts, 1 inch wide pre-taped hair wefts, that get "taped-in" in between your own hair in "sandwich" like bonds. ... This method is 100% natural, requires no tools or chemicals, lasts up to three months and the hair is reusable!
BRAIDLESS WEAVE AKA LA WEAVE | braidless Weave They lie much flatter to the head and because there is no braid, there'll be less tension on your natural hair which can cause hair loss and damage. The wefts can easily be reused and repositioned. Without braids, the extensions are much more comfortable to sleep in.
MICRO

RING WEFT |

Micro ring

wefts combine both the

microring

attachment and a

hair weft

. Small sections of the natural

hair

are threaded through each tiny

micro ring

and then the

micro ring

is clamped flat using Hair Extensions Pliers to secure it in place.

Micro

wefts are fast to apply and cause zero damage to your own

hair.

SW INVISIBLE

WEAVE | The

Invisible Weave

method ensures there are no visible attachments at the base and top of the extensions. ... Instead, this invisible weave method uses secret attachments which are hidden inside the weave so they cannot be seen when the hair is worn down or styled up.

A brand new take on applying weft hair extensions that uses no heat, no glue, no braids and most importantly and what makes it so innovative is that there are no visible connections. The trend setter.
The way it is applied hides the connection from both the top and the bottom and also enables a more comfortable and versatile fit for most hair types. In addition to this the row placements create a seamless finish giving more versatility to the client which makes high ponytails a lot more discreet.
All designed for the most discreet fit. Our technique is suitable for use with most brands of weft hair extensions so rest assured there is no eed to find a new supplier if you already have a favourite.
CHOOSE COMBINATIONS | A MANNEQUIN HEAD IS INCLUDED IN ALL ONLINE COURSES.
COURSE 1 | (2 methods) £299 Including kit | Choose your 2 methods

Micro Ring
Nano Ring
Tape Weft
Prebonded Fusion (Hot)
BRAIDLESS Weave aka LA Weave
Invisible Weave
After booking please message us your preferred 2 methods from above.
COURSE 2 | (3 methods) £350 Including kit | Choose your 3 methods
Choose from list above.
After booking please message us your preferred 3 methods from above.
COURSE 3 | (4 methods) £399 Including kit | Choose your 4 methods
Choose from list above.
After booking please message us your preferred 4 methods from above.
COURSE 4 | 5 METHODS £450 Including kit | Choose your 5 methods
Choose from list above.
After booking please message us your preferred 5 methods from above.
COURSE 5 | 7 METHODS £599 Including kit | All 7 methods below.
Micro Ring
Nano Ring
Tape Weft
Prebonded Fusion (Hot)
BRAIDLESS Weave aka LA Weave
Micro Weft
Invisible Weave
Course 6:- Ultimate Classic Sewn In Weave (Including Cornrow for beginners). £599 Including Kit:
Sewn In Weave Natural hair is braided then extensions are sewn onto the braids using a Weaving Needle and Weaving Thread.
Course 7: Coming Soon
Course 8 Mesh Integration: Specialist Hair Thinning Application) £450 (ONE DAY COURSE:-
Help sufferers from Hair Loss or thinning of the natural hair.
Help those with naturally short hair around 1 inch long.
Help those suffering from stress and lost parts of their hair.
Help clients suffering from Alopecia.
Help clients receiving treatment such as chemotherapy or suffered from Cancer and lost most of their hair.
Help those looking for a hair replacement system.
Mesh Integration Course - With this module you can perfect your approach to Clients with thinning hair. Our Specialist method taught alongside all implications of clients with Medical Conditions or general thinning hair and when not to apply. Basic Hair Loss.
Initially designed to help men and women who suffer with moderate to severe hair loss, mesh integration uses a form of netting (or mesh), which is placed at the root of the hair, above the scalp.
You will be trained in how to place the mesh accordingly to the hair loss. How to secure the mesh comfortably, securely, safely, and finally how to create the Integration to be completely undetected, with a complete natural look.
How to choose and install the correct Topper/Closure/Frontal and sizing.
How To Bleach My Lace Closure Knots.
How to take Accurate Measurements.
Sectioning and Hair-Line arrangement.
Working without an available Hair-Line.
Solutions for Side Hair-Loss.
The result is a new head of hair extensions that is thicker, stronger, and healthier looking than ever before.
Course 9: Wig Making Course £600 Including Kit and Manual.
Closure or Frontal Customising
Wig construction
Wig laying

The popularity of custom wig units has soared in recent years. The versatility and unique qualities of each unit have never been available to more women at any time in history. SW Hair Training Academy are proud to offer our expertise in wig design course. Unmatched construction and luxury hair are the hallmarks of SW Hair Training Academy Custom Units and this class will provide you with the skills and knowledge to construct superior units!

This all-inclusive course will cover every aspect of crafting luxury units and how to utilize this new skill to provide services to your clients. Students will receive hands-on training + an instruction manual, that includes valuable templates to jumpstart your business. Upon completion of the course, students will be presented with a Certificate.

Client Consultations
Measuring Clients
Cap Selection
Stitch Selection
Unit Pricing
Applying Closures
Lace or Dome Cap Prep
Unit Installation
Making Full Units

Wig Kit Contents

One Full LACE Wig Cap
One Canvas Head or One Styrofoam Head
A set of Synthetic hair extension
T Pins to pin the cap unto the head
Elastic Tape for extra hold
Ventilating Needle
Ventilating Holder
C Clamp, this is for holding the head
Lace Tapes
Scissors (Random Style/Colour)
Comb (Random style/colour)
All the above courses includes Interactive Live Stream to support your Practical Unit (Optional at no extra charge).
Course 11 - Beginners Cornrow - 5 Techniques - including Box Braids
Request our Digital Brochure for details on this course.
---
All courses include the following:-
Health and Safety Manual
Industry recognized certificate
Training manuals
Guaranteed insurance cover
Ongoing help and support
Some courses are 1 day only:
Day 1: Practical which consists of: Client Consultations, Client hair Type, Preparation, Sectioning, Application, Cutting & Styling, Aftercare, Maintenance, Removal, Equipment, Colour matching, Hair Products and Health & Safety.

Day 2: Consists of applying hair extensions, where trainers will be on hand to observe & assess your application and assist you throughout the application where required and to help with any individual requirements clients may have. All hair required for this application will be provided and included in the training cost. If you provide your own model for the second day, it is at your discretion if you ask for your client to pay a small fee (to you) for having hair extensions applied to which will help towards your total costs.
At SW Hair Academy we believe that high professional standards delivered by well trained personnel to build your reputation and ensure repeat customer visits. Our sole aim is to help you provide professional standards by giving you access to affordable courses that are delivered by qualified experienced personnel.
We also offer ongoing support and help after your training is completed for any questions or help you require at a later date.
Upon booking your training, course 1 full payment will be due. Course 2 and above a deposit is required (see course details) at the time of booking. This deposit is used to secure the date and place which you book for training and this charge will be deducted from the overall cost, when the remainder of the amount has been settled.
Learn how to maximise your results and reduce your application time while boosting profitability.
What is included in your hair extension training kit:
Click here to see our various kits
Extras:
hair extensions "everything you need to know" manual
Guaranteed Insurance details to kick-start your business
Certified certificate
What will you learn:-
- Salon and client health & safety
- Client consultation
- Different types of hair on sale
- Colour & texture matching
- Securing that booking (£££)
- Application placements (half & full head placement)
- Blending for natural look
- Hair extensions after care & maintenance
- Best products to sell client (£££)
- Highlights, low lights and balayage
- Hair extensions removal
- Pricing and profit
- Business insurance
CAN'T GET TO ONE OF OUR GROUP COURSES? LET US KNOW YOUR LOCATION AS WE CAN COME TO YOU!!
Book your training above
Training Centres in:-
Aylesbury | Bath | Bedford | Belfast, Northern Ireland | Birmingham | Brighton | Bristol | Cardiff | Falmouth, Cornwall | Devon | East Dumbartonshire | Edinburgh | Essex | Exeter | Glasgow | Gloucestershire | Hertfordshire | Hull | Kilmarnock, Scotland | Liverpool | Manchester | London (Several Training Centres message for details) | Newport |Newcastle | Norwich | Nottingham | Peterhead, Aberdeen | Renfrew, Scotland | Somerset | Swindon | Watford | York | Marbella, Spain | United States of America.
* Class dates and locations are subject to change.